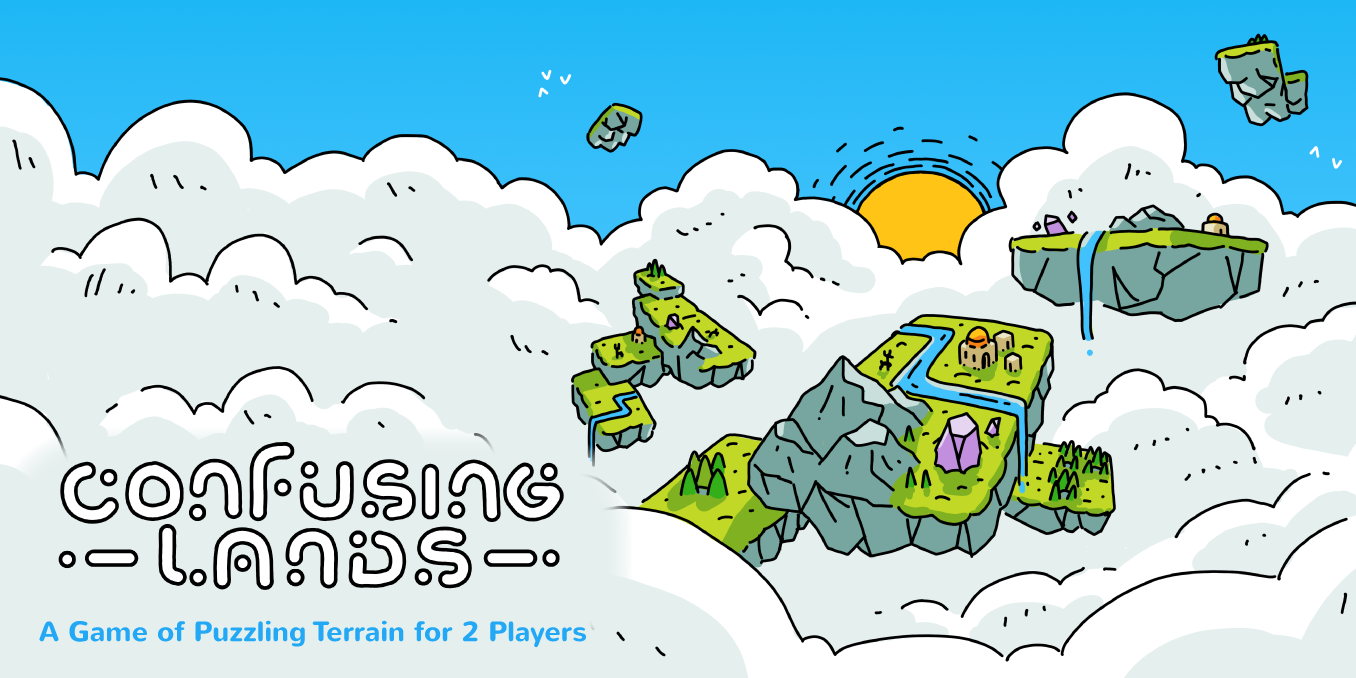 Confusing Lands
Confusing Lands is a card game for 2 players in which each player creates their own wacky floating landscape! Get ready to discover majestic mountains, trace flowing rivers, and encounter the occasional cute little deer!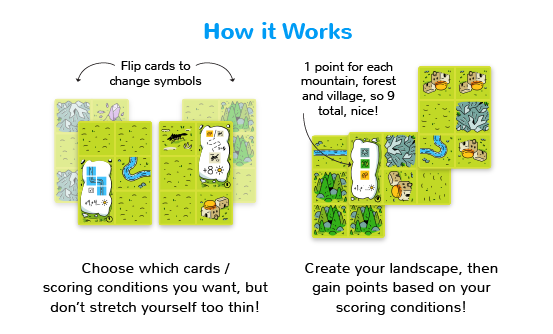 Players take turns playing cards containing various symbols and scoring conditions. Once both players have played 8 cards, they each tally points based on a single shared scoring condition as well as the other scoring conditions present in their finished landscapes. The winner is the player that created the best confusing landscape! Which is to say... the player with the most points at the end of the game!
Note: This is a PRINT AND PLAY game. After downloading, you'll need to print and cut out the cards yourself in order to play.
Download
Click download now to get access to the following files:
confusing_lands_rules_V1.2.pdf
3 MB
confusing_lands_pnp_V1.1.pdf
3 MB
confusing_lands_pnp_V1.1_A4.pdf
3 MB
Comments
Log in with itch.io to leave a comment.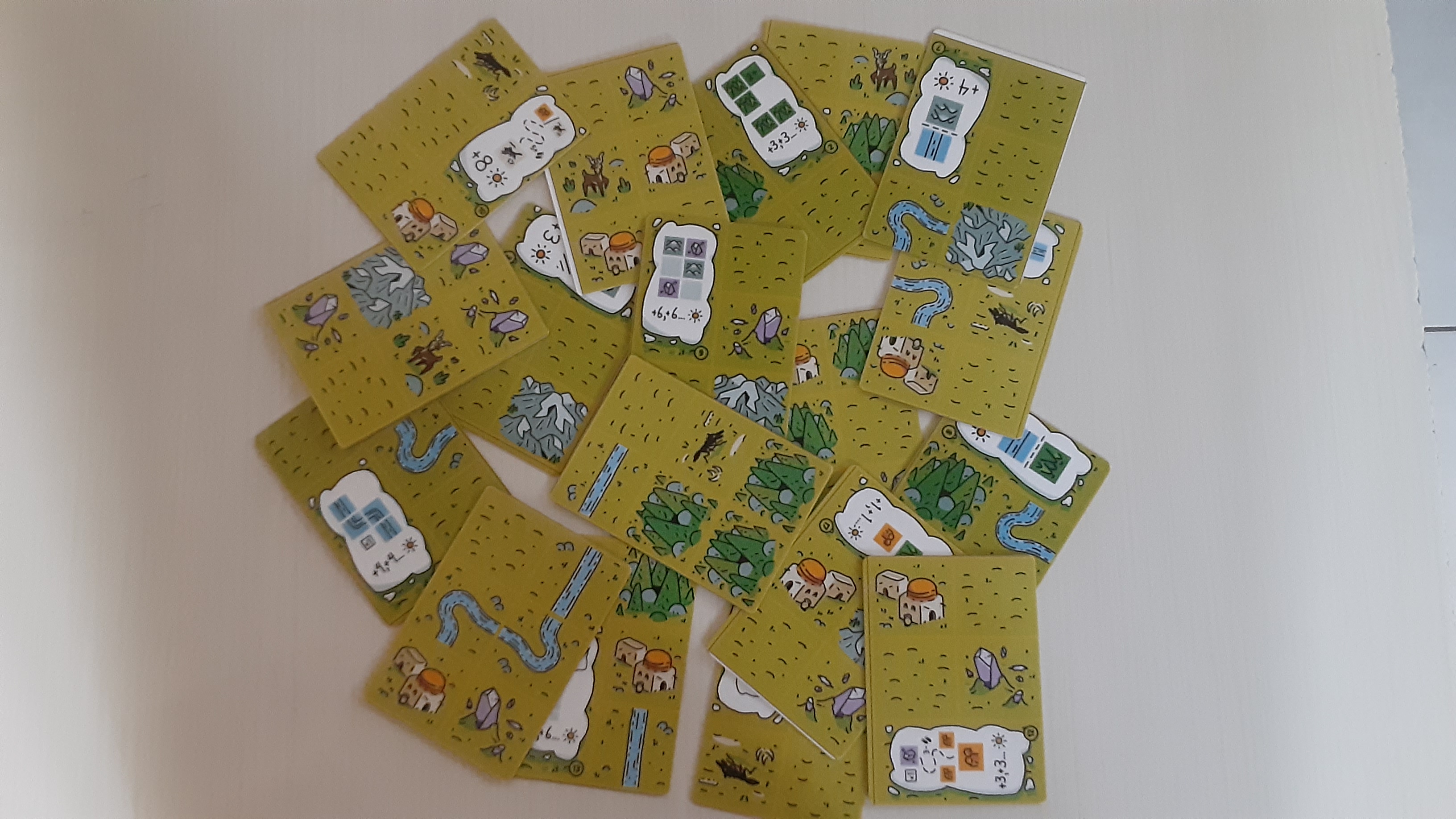 Confirmaron expansion? El juego es del año pasado y no ha habido novedad ultimamente

I really like the game.
I was a bit hesitant because it's not 0-ink but really don't regret building it.

The simple and clean gameplay works perfectly, in my small experience of games where you build landscapes with objectives I may like the way this game works the best, it's really clever. Negative points, straight 2 player drafting, potentially one objective a turn and being overwhelmed by an objective coming during each turn, take it now or never, objectives literally getting on the way, I love this one ... I'll stop describing your own game to yourself :). The conditions are "orthogonal" enough to each other that you'll get to create many different combinations which is all the point, and anyway they feel fresh enough although they might actually not be, I guess another game would not have that much of a different set of conditions, but the entire package does feel fresh.

Since the topic was already raised, Valley Guardian was also the only confusing condition to us, we had little idea how it works, since it's a shared feeling it might be worth rewording it. The funny part is that when translating it I actually specified "separated by moutains" but we still played as if rivers, especially, were separator too, for example. I am not sure why we overinterpret "connected" for this one.

You can ignore all this babbling, the main plot of this post was :

Big thanks for sharing the game!

Just wanted to come back and say how much we're still enjoying this game! We've played it about 25 times over the last few weeks. Everyone I introduce it to loves it. (highest score is 39, so proud!)
Would love to see expansions. Or even re-skins (I love your art style). I can imagine a Christmas themed one with gingerbread houses, snowy landscapes, deer with the occasional red nose!
Thanks again Zak. Hope you find a publisher!
Really enjoyed playing this (3 games back to back) It would be lovely to have the rules and player aids reformated to fold into a card size so they'll fit into a small box with the cards (please!)
We weren't clear on the rules for a couple of things, Valley of the Guardians - what decides if things are connected? Do mountain and rivers separate areas? Close neighbours - seems very unlikely to score more than 9/12 on this, so a net gain of -1 or 2 points makes it undesirable to choose. Maybe 2 points per square works better? Land of plenty - do you lose 10 points before scoring it too?
Thanks for a beautiful game!
Thanks for playing! Card sized rules & player aid are a good idea. I'll give that a look once I have some time to revisit this.
To answer your rules questions:
Valley Guardian: Connected just means spaces that touch each other in a group. For the purposes of Valley Guardian, only mountains separate the groups.
Close Neighbors: This scores in square number increments (so, 1/4/9/16/25). You're right that it's probably not worth it if your biggest square is only 3x3, but a 5x5 can be very juicy.
Land of Plenty: You do lose 10 points for this one, yes.
Thanks for the reply, we've played this so much in the last few days and I've gifted it to 2 people already. It's a game, really pretty and satisfying. Please add to BGG so I can review, and perhaps think about expanding it! Please!
Thanks! Review written. I actually think you're underselling it calling it a microgame. It's a fully fledged game in a compact form. Please do expand!
Porfavor haz una expansion para este hermoso y entretenido juego espero veas este mensaje.
Y no estaria mal que tradujeras las reglas al español
Gracias por las palabras simpaticas! No se cuando podria hacerlo, pero tengo algos ideas pequeñas para una expansion. Traducciones de las reglas estan posibles tambien, pero necesitaria ayuda con estas
Today i played my first game with my brother and liked it a lot. Congratulations for your game. You should upload it to Boardgamegeek database. I'm sure more people will discover your work there :)
Thanks, glad you're enjoying it! Good suggestion on the BGG page. It's submitted, I'm just waiting for approval. I was procrastinating with it a little bit though :)
Looks awesome. I might try to import this into tabletop simulator to play with my partner online!
Thanks! I actually have a TTS build that I was planning on polishing up and making public later this week. I'll post an update on the itch page once it's available (but if you want to import it to play with your partner sooner go ahead!)
Ooh better follow you then! Look forward to it!
We checked it out on TTS tonight. The art is so pretty but the instructions were a bit over our heads. A gameplay video would be really appreciated to make it more accessible to people who have short attention spans and are bad at math🥺 Also it looks like this type of game would really benefit from a grid that's perfectly aligned to the squares on each card, rather than having to super carefully place the cards on top of each other. Congrats on your release though!
A gameplay vid is a good idea! I'm still pretty new to building things in TTS so haven't messed around with scripting or making grids but I'll look into it. Thanks for giving it a shot!